We, Ceylon Coir Fibre Industries (Pvt) Ltd is a well established and limited liability company operating since 2001.
Ceylon Coir Fibre Industries (Pvt) Ltd is one of Sri Lanka's leading Manufacturers and Exporters in the production of Coconut Fibre, Coco Peat and Coir based products. Since 2001, our products have been exported internationally to Germany, Belgium, Sweden, Russia, USA, Japan, China, Hong Kong, South Korea & Pakistan.
Our business currently operates under the leadership and management of Mr. E M J Perera & Mr. Nishantha Perera.
Mr. E M J Perera is the founder of the business and has over 40 years of experience in the Coir Industry.
Our production site is located in the Coconut Triangle in Sri Lanka and is enriched with a wide selection of Coconut Husk and Coconut Fibres which are taken in to our production process. As we are located in the Coconut Triangle, we are enriched with the best possible Coir Fibre in the world for our wide production lines. Coconut Fibre / Coco Peat is a completely natural product and is environmentally acceptable from its sources, through processing to end use.
We manufacture and export wide range of 100% Natural Biodegradable, Disposable and Environmentally Sustainable Coir products. Our products are made from Organically grown Coconut Husk Fibre. We manufacture high Quality Coconut Fibre and Horticulture products using Environmentally friendly methods.
We have a highly motivated Management and Staff dedicated in ensuring that the best possible products and services are offered to all our Buyers.
We are also registered as an Manufacturer and Exporter at CDA ( Coconut Development Authority ) and as an Exporter at EDB
( Export Development Board ) of Sri Lanka.
Our Registrations in Government Authorities.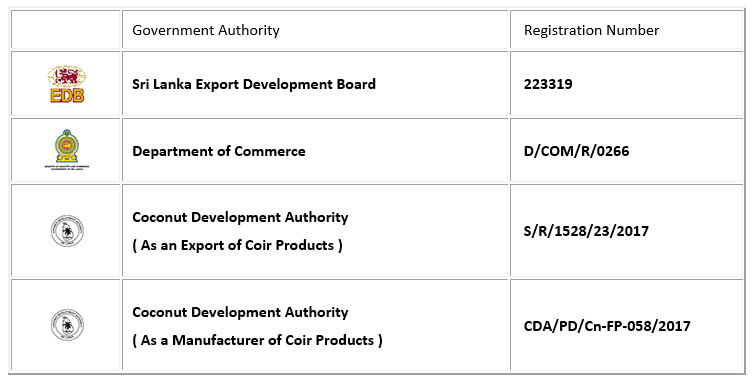 Vision
To be recognized as the premier coir products manufacturer & exporter in Sri Lanka.
Mission
We assure to provide the finest quality coir products while maintaining the best customer service via guaranteed on time delivery and after sales.